If you're exhausted by trying to please the people in your house with yet another dinner.  Try whipping up these delicious dog treats, I can assure you, your efforts will be appreciated!
Perusing our local Goodwill, we found this neat little book with recipes for cookies, The Ultimate Dog Treat Cookbook by Liz Palika.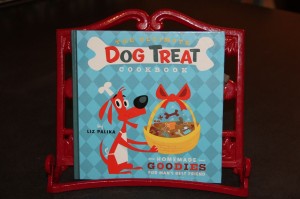 After flipping through the book, Chunk Chicken and Sweet Potato Treats looked SO easy and the ingredients were already in house so we decided to give it at try.  Start by preheating your oven to 350 degrees.
Here's what you need:
1 1/4 Cups of cooked chicken, cut into 1/2 inch pieces
1/2 cup of 1/2 inch pieces of cooked sweet potato
2 cups all purpose whole wheat flour
1 cup evaporated lowfat milk
1/2 teaspoon salt
1/2 teaspoon baking powder
2 large eggs
Literally the hardest part of this recipe is just grabbing the ingredients.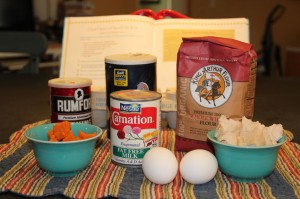 Once you have them together, just mix everything  – all at once in the bowl.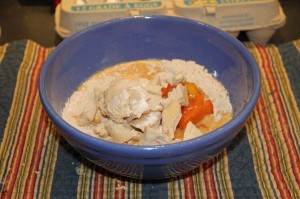 Make sure to coat all of the pieces of chicken and sweet potato.  Hindsight being 20-20, next time we'll probably use the food processor to shred the chicken and sweet potatoes for a more even consistency.
Then  drop the cookies on a greased sheet pan (or line it with parchment) and bake for 14-18 minutes.   Our cookies were on the larger side and cooked for 20 minutes at 350 degrees.  The cookies will be golden brown when they are done and you'll see bits of chicken and sweet potato peeking through.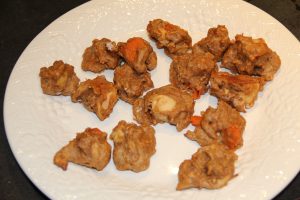 Of course,  we tasted them!  For us of course – they were a little bland, but Kodiak LOVED them.  Enjoy!