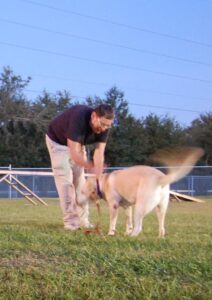 You've probably seen agility trials on Animal Planet Channel and been amazed by the focus and accuracy of the dogs in action.  It may look like the run is all one fluid action, but really its just  a series of steps woven together for a seamless demonstration. Kind of like ballet.
Those dogs on Animal Planet are not so different from that dog that is laying at your feet right now.  We visited with OceanWolf Agility recently and found everyday dogs doing amazing things.  OceanWolf Agility is run by Hera and COZ, two dedicated dog lovers with award winning dogs – by the way, those award winners were rescued from shelters.
The students at the class that we attended included a Papillion, a Norwich Terrier, some beautiful mixed breeds, and an adorable Labrador that goes by the name of Ted.
To a dog, each student was really into the class.  They were focused on their owners and the task at hand.  Hera and COZ provide hands-on training for the owners to help them help their dogs.  The neat thing about agility is that you are encouraging your dog as opposed to correcting her.  If she doesn't want to jump through the tire, you don't pull her through, you lure her through with a yummy treat, or her favorite squeaky.  Whatever works for your dog.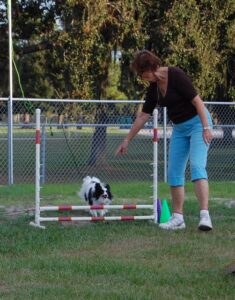 In the first class, some basic obedience is practiced.  So don't feel like your dog needs to be perfect before attending an agility class.  You're developing your bond with your dog and your dog will know that for that one hour – its all about the two of you – just having fun.  Matter of fact, it looked to us like the owners were having just about as much fun as the pups.If you'd like to learn more about agility  or sign up for a class you can contact [email protected] or call 941-922-5704.  The training facility is just east of I-75 on Clark Road at the West Coast Veterinary Center.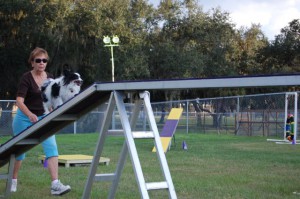 Hera and COZ are the real deal, they'll help you and your dog have a great time and jump through the tire too!