Lots of great places to dine al fresco with pups here in town. We compiled a list here of some our favorites – be sure to check out Boo's Dog Bar! It's the newest, super dog friendly Sarasota spot.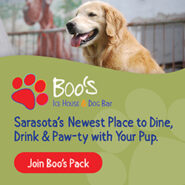 Boo's Dog Bar
1314 10th Street
Sarasota, FL 34236
(941) 960-2669 – Call ahead for hours –Dine, Drink and Paw-ty with your Pup!
Cha Cha Coconuts
417 St. Armands Circle
Sarasota
941-388-3300
Cheeseburger Cheeseburger
4944 Tamiami Trail South
Sarasota
941-921-5503
Crab and Fin Restaurant
420 St. Armands Circle
Sarasota
941-388-3964
MadFish Grill
4059 Cattlemen Road
Sarasota, FL 34233
(941) 377-3474
www.madfishgrill.com
Mattison's City Grille
One Lemon Avenue North
Sarasota
941-330-0440
O'Leary's Tiki Bar and Grill See our review in Sarasota Dog News
Five Bayfront Drive
Sarasota
941-953-7505
Old Salty Dog I
5023 Ocean Boulevard
Sarasota
941-349-0158
Old Salty Dog II
1601 B
Ken Thompson Parkway
Sarasota
941-388-4311
Pinot's 100 Central
100 Central Avenue
Sarasota
941-955-3739
Spanish Pointe Pub & Marina
135 Bayview Road
Osprey, FL
(941) 966-5746
SpanishPointe.com
Village Cafe
5133 Ocean Boulevard
Sarasota
941-349-2822
Tarpon Bay Tiki Bar and Grill (north of University)
7150 N Tamiami Trail, Sarasota FL 34243
941-843-5528
Have a favorite spot to bring your dog? Drop a comment here and we'll add them to our list!