Mary McEwan Art
Each dog is special.  Unique. With a beautiful soul.  Those of us who love them think of them as family. The eyes of a dog tell so much about who they are, what they are thinking, if they are happy, sad, in pain, content.  Photographs are wonderful.    They can capture a single moment, but an artist can capture who he or she is, their personality, their mood, their essence.   I strive to produce not just a painting of a dog, but a portrait of that wonderful special friend.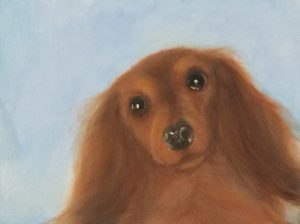 Mary McEwan has a lifetime of experience capturing the natural world.   Working in
oils
on canvas from your photographs, Mary will create a likeness of your pet that will be cherished for it's authenticity.
A Darling Design
Your pet's portrait will be created from a photograph in a graphic representation style by Doris Schmucker.   The result is a fresh and contemporary image capturing the essence of your pet's personality.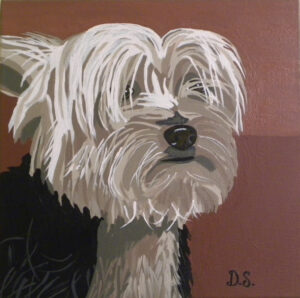 Doris has always had a passion for art and completed her Bachelor of Fine Arts in Illustration at the Ringling School of Art and Design. She is the mom of two children and a much loved kitty adopted from the Humane Society of Sarasota County.   Blending her talent for painting and love of animals has been a labor of love yielding treasured portraits.  Many of Doris' clients have memorialized their pets with custom paintings to keep them close to their hearts.   Find samples of Doris's work online at:  www.adarlingdesign.com  Follow her work on Twitter, Facebook,  and Google+
Whimsical Pet Portraits by Laura Dresser
 
Oils, Computer Painting, and Ink and Water Color. Please visit  dresserillustration.blogspot or call 941-276-2345 for more information.
My Muze-Art   Sarasota Florida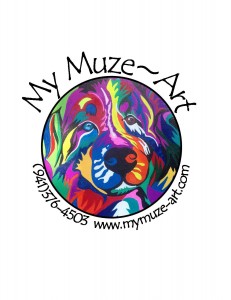 Your Pet Captured on Canvas with Custom Pet Portraits and Gifts. Visit our gallery here: 
MyMuze-Art.com
    For more information, contact us on
Twitter
or email: 
[email protected]
, or call 941-376-4503.
From Angela's web site:  "I love to create the paintings with the colors that the owners love and the colors that I see when I look at the faces.  Seeing these pictures from all of you gives me inspiration, each one is unique and one of a kind.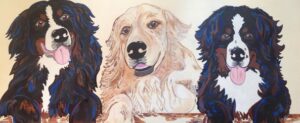 The pictures talk to me and from these photos I decide what colors, properly placed will give off the emotion from the photo.  All of the photos can be done in multicolor or the "true" colors of the actual dog.  As you can see I have a deep love for Bernese Mountain Dogs, but I can paint any breed, any cat, any horse, anything, the sky is the limit and it is your choice."