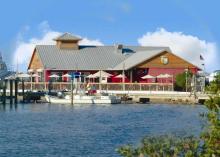 If you have not been to the Old Salty Dog for a while you are in for a pleaant surprise.  There has been a serious upgrade in their menu and the quality of the food. The new menu features some of the old favorites such as the famous dog bites, sliced hot dogs battered and fried and the traditional fish and chips. Some new and delicious additions include items from the steamer and raw bar such as oysters on the half shell and steamed middle neck clams.  I chose the Maui Wow-Wee burger, a burger done medium as requested and topped with a grilled pineapple ring, a slice of Swiss cheese and several slices of bacon all served on a fresh Kaiser roll.  It was delicious.  My companion chose the seafood roll which contained generous amounts of lobster and shrimp.  In addition to burgers, dogs and sandwiches there are several entrée items to choose from. There is a limited dessert menu but the chocolate explosion is absolutely delicious.  Adding to the festivities – there is an expansive selection of beers and wines.  Of interest is the fact that the food and drink order is sent to the kitchen or bar through a handheld device.
Both of our four legged family members were treated as honored guests and a water bowl and cookies were produced as soon as we were seated.  We were centrally located on the deck so the boys were admired and petted by almost everyone who passed by.  The condiment holder in middle of each table is a dog dish.
Servers use a cool handheld device to place your order right from the table and also to approve credit cards – this really cuts down on wait times.
Old Salty Dog has   one of the best views of any waterfront dining establishment in Sarasota.  An unobstructed view of the sunset is available from the deck.  It is also accessible from the water and it has a small dock.  Another advantage to this location is Ken Thompson Park right down the road.  We often take our dogs there to play in the water before or after dining at the Old Salty Dog.  Check out their website at www.theoldsaltydog.com
Doggie Dining Critic:  Joe Houle
The restaurant is located on City Island at 1601 Ken Thompson Parkway across from Mote Marine.1601 Ken Thompson Pkwy, Sarasota, FL 34236-1005   (941) 388-4311