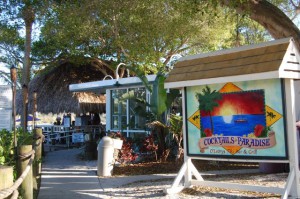 Everything about O'Leary's is dog-friendly.  It's not that the staff or the accommodations are unique, although everyone was very friendly and helpful –  its that the approach to the restaurant is natural and you can just walk right in with your dog.  We went with a dog on the larger size (55 pounds) and there was absolutely no problem.    The floors are either beach sand or wide deck planks, picnic tables make it easy for little dogs to sit on the bench or for big dogs to grab a big piece of shade.
With the weather as fabulous as it was this weekend, everyone was having a great time.
For water dogs, there's ample access to small section beach for retrieving balls or just wading.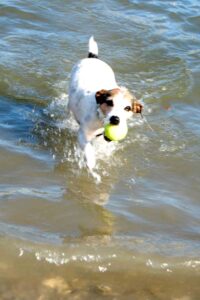 Our group opted for an icy pitcher of beer. . .just $9.00 which went around the table of four, twice.  The food is kind of what expect for a tiki situation, wings, burgers and fish sandwiches.  Everything, especially the wings were done right.  This is a destination for the view, the people watching and the easy access for your dog
Be sure to bring your own water for your dog – and a bowl.  It's just easier than having to get it from the bar.
O'Leary's Tiki Bar and Grill is located at 5 Bayfront Drive – just south of Marina Jack's
Phone 941-953-7505
Monday through Sunday from 8am to 9pm