By Lori Michel, Animal Communicator
The Virgo canine is very intelligent and routine oriented. So when life gets in the way of your daily routine as it often does, your Virgo may seem a bit derailed about bath day or should I say the lack thereof.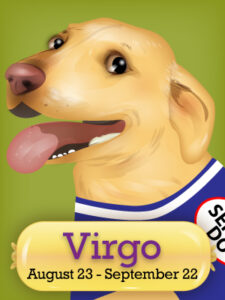 The wonderful thing about your Virgo fur-baby is even though bath time or park time may have been delayed a day or so, a big hug from you and all will be forgiven as your Virgo pup is very loyal and loving to the one and only, you, loving them back.
Because of their intelligence, loyalty and need for routine the Virgo 's may be a paw-some candidate for service work or canine competitions.
Enjoy your Virgo Pup!

If you'd like to learn more about what your dog is thinking, or communicate with your dog who has transitioned to the Rainbow Bridge, please visit my web site, or drop me a note at [email protected] to arrange for a private reading.
Special thanks to Chris Beetow our Zodiac Artist!