West Highland White Terriers, or "Westies," as they are affectionately called, are big dogs in little dogs' bodies. Known for their silly antics, intelligence, and pure love for life, Westies make great companions for children, adults, and other pets.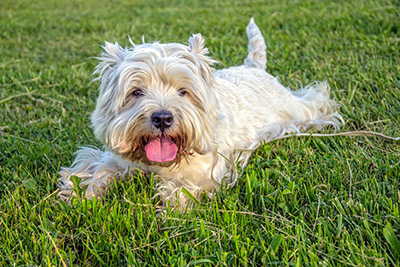 Physical Traits
Size & Weight: Westies are small, hardy-looking terriers that typically stand at 10-11 inches high at the shoulders, and weigh between 15-22 pounds.
Coat & Color: Westies are white in color, with coats that are about two inches long. The outer coat is rough, but there should be plenty of soft undercoat.
Life Expectancy: 12-16 years
Temperament:  Originally bred for hunting and chasing rats, Westies have developed the ability to think on their own and are very smart, trainable dogs. Westies are also very social, so they love being in the company of people and animals alike, but possess enough independent spirit to do well in households where their humans work during the day. The perfect combination of loving and self-assured, smart but playful, Westies make great family pets.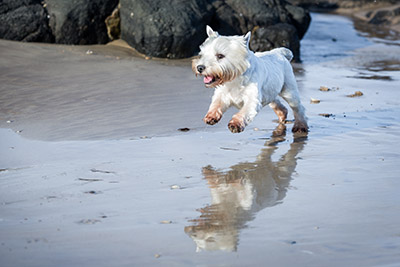 Something to Bark About: According to myth, the Westie's white color is the result of a nineteenth-century hunting accident involving Colonel Malcolm Poltalloch. After mistaking his wheaten-colored Cairn Terrier for a fox and shooting him, the devastated colonel decided to breed only white dogs that could never be confused with a fox.
Wags:
• Westies do well with other animals, including cats.
• Westies adapt well to any type of living condition, whether in a small apartment in the city or a large country home.
• Westies are great travelers, so if you're looking for a dog that can tag along on vacations, he's your guy!
• Easily trainable, Westies will quickly learn basic commands and potty training.
Yelps:

• Westies will definitely alert bark—which is a nice way of saying he can be noisy. He'll alert you to strangers, dogs in the yard, delivery men, and just about anything that moves.
• Westies have a high prey drive, so they should not be left alone with small animals such as gerbils or rabbits.
• These feisty guys also like to dig, so fenced yards should be monitored on a regular basis to ensure your Westie doesn't manage an escape.
If you'd like to learn more about adoptable Westies in your area, visit http://www.sunshinestatewestierescue.org/ for more information.