Spending time with our dogs is one of the sweetest pleasures of dog ownership.   We get to walk and meander, inspect the world and just enjoy each other's company.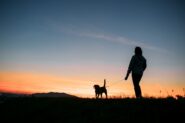 We've pulled together some tips and tools to make your walk pleasurable and safe for both you and your pup.
Before you go, check your dog's collar/harness and make sure that they are snug, but not too tight. You should be able to slip a finger between the collar or harness and your dogs skin.
Use the right leash! Flexi-leashes or retractable leashes are just plain dangerous. Stick to a six foot leash that you can pull the slack up on. Martingale is a good brand for both collars and leashes. Shop your local retailers and talk to the staff, most are very knowledgeable.
Bags will be necessary of course!
Know your terrain. If you are in a new neighborhood, and an area you will be walking in regularly it's not bad idea to take the walk alone first. Know where there are other dogs – are they securely behind a fence? Are cats roaming freely? Knowing the little ins and outs of your neighborhood can be super helpful. Your confidence in knowing the area will travel right down the leash so that your dog is at his or her most relaxed.
Most dogs have a few little quirks, just like humans. They may be set off by squirrels, sirens or just a kid riding by on a bicycle. Getting to know those quirks or triggers, and being prepared to distract your dog when something pops up can save some angst for both of you. Carry a treat, favorite toy or whatever will redirect your dog's attention from his trigger.
A deterrent is always a good idea. We recommend citronella spray, it's compact, light and very effective. The citronella spray would be useful should you find yourself confronted with a threatening off-leash dog. Here's the one we recommend.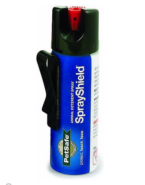 There are other options, air horns for example. You can find these on chewy.com or amazon.com
Bring your best self. This time with your dog is precious. If you approach it with a fun attitude, everyone will have a better time.
As the Scouts say Be Prepared!
These tips are brought to you by Pet Suites of Bradenton