Register now and SAVE THE DATE for a super fun, dog-friendly day supporting Satchel's Last Resort at the Y Berlin off B'hai Vista (1075 Euclid Ave) right here in Sarasota from 8am to Noon on May 1st 2021.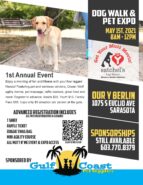 You'll get your Mutt Moving with this outdoor fitness party for Fido and you!
Please register in advance (by April 15th!) to attend and get these cool perks! Advance Registration includes:
Dog walk around the shady track at the Y
Mini-Agility Course for your dog + agility demos!
T-Shirt
Doggie Swag Bag
All access pass to expo and events
Other festivities include Zumba with your dog, and Doga time to stretch and bond with your pup!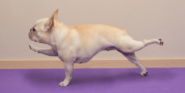 There will plenty of food and pet-centric vendors as well as local businesses supporting Satchel's Last Resort, and the Y. Please visit:
https://satchelslastresort.networkforgood.com/events/27903-get-your-mutt-movin to sign up and secure your spot!
All COVID safety guidelines will be adhered to and masks are required with the exception of fitness activities – where social distancing will be employed. All dogs must be on leash at all time – and please make sure that your pup is current on vaccinations.
This event is proudly sponsored by Gulf Coast Pet Supplies
About Satchel's Last Resort
Satchel's Last Resort is a no-kill animal shelter/sanctuary whose mission is to Rescue, Rehab and Rehome dogs and cats with nowhere else to go because of breed, behavior or medical issues. We are housed on 12 acres – two large play yards in the front of the building and a large area behind our building where volunteers can walk the dogs.
We believe all dogs and cats are created equal and deserve to live the life of a beloved pet. Each dog and cat that comes to us has its own unique and personal history. We get to know each one individually – his favorite toy, his favorite game, his favorite foods. Our dogs live in an airy shelter with spacious kennels, get out four times a day – whether it be going for a neighborhood walk, a playtime in one of our large yards – 2 1/2 acres and 1/2 acre, or take the occasional car ride to let their fur flap in the wind. Our cats are housed in two separate open cat rooms.
Most important to us, we keep our animals safe from other residents and from humans who may want to harm them. Our staff work with our animals to teach them how to learn to trust again.
We actively seek forever homes tailored to the needs of our dogs and cats so that they can live the rest of their lives among a family of their own. We believe that by harnessing the unconditional love that the animals in our sanctuary put forth everyday, the world becomes a brighter place for animals and people.
Each and everyday we try to give a little of their love back – back to the dogs and cats and back to our community.