We are back in the kitchen with Chef Julie whipping up some yummy dog treats. It looks like this might be a rainy weekend so a great time to to try these out.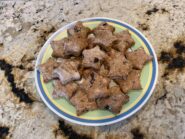 Recipe
1 cup of blueberries lightly mashed
2 1/2 c. Organic Whole Wheat Flour
3/4 c. whole oats
2 eggs
1/4 tsp. Salt
2/3 c. No sugar applesauce.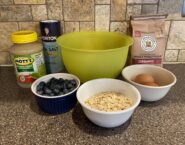 Directions: Preheat oven to 350 degrees. Lightly mash blueberries, stir in oats. Add remaining ingredients and hand mix until soft dough forms, will be crumbly at first.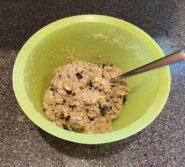 Let rest 10 minutes. Turn out onto floured surface, roll to half inch thickness. Use your favorite cookie cutter or cut into squares. Place on nonstick cookie sheet, bake 30 to 40 minutes until brown and firm to touch.
Cool and enjoy!