This ADOPTION success story is dedicated to everyone who makes a difference in an animal's life at SAFE HAVEN HUMANE SOCIETY OF JO DAVIESS COUNTY ILLINOIS! Special recognition to Gwen Veltkamp and Marilee Hejna who said, "YES!"and helped significantly in our adoption.
A bit of background is so necessary. My wife, Lorraine, and I, enjoy an active lifestyle in St. Petersburg, Florida. That's right, St. Petersburg, Florida, some 1300 miles away from Safe Haven. We regularly ride our three horses on a 200 acre ranch just south of St. Pete, in Sarasota Florida. As of a year ago enjoyed doing that with our two dogs, Chance and Bandit. Unfortunately, we lost our beloved Chance to cancer last September. He was a major part of our life and you can imagine our tremendous loss when Chance crossed "Rainbow Bridge!" Since we rescued Chance from a Shelter and soon after that discovered Bandit abandoned by a hunter in the woods, we decided it was only right to rescue another dog deserving of a special home. It was time for Bandit to have a companion again!
In beginning our search, together we realized this lifestyle warranted a particular type of dog. One who was able to stay with us while on horse back. A dog that would listen and adhere to direction. One that was able to handle the unique climate. And finally, one who could travel quietly in the back seat of a truck without destroying the interior! It didn't take long for us to decide another English Pointer was the dog for us.
Using the "power of the internet" we went to www.pointerrescue.org and carefully studied the Dogs for Adoption there. Soon we arrived at the friendly website of www.safehavenforpets.org where we learned of the plight of "DUTCH". Dutch is a 6 year old male, lemon and white, English Pointer who was kept in a crate in a closet for the last two years. We contacted the shelter and spoke with Gwen who described Dutch and his mannerisms to us and it was then that we knew he was perfect for us, or should I say we were perfect for HIM!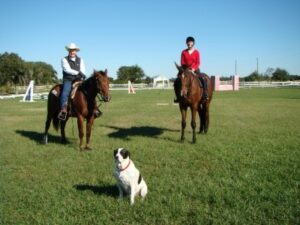 After filling out the proper adoption forms and sharing our vet references with Safe Haven, we soon got the call that Dutch would be ours.
Now, the next step is how would we get Dutch, a sixty pound dog, to his new home in Florida? I was amazed at how many offers there were to accomplishing this very task once I let out the cry for help. From a Nationally-syndicated talk show host who offered to pay for a flight up to pick Dutch up and drive him back, to Operation Roger-, a group of volunteer truckers, who transport rescue dogs across the country. And finally, Continental Airlines, who had one flight a day leaving from Madison, Wisconsin!
After speaking with Safe Haven and their agreeing to deliver Dutch to the airport, we made the arrangements. That Monday seemed like it dragged on forever for Lorraine and I, but, I am happy and proud to report that Dutch made the 1300 mile trip from Madison to Cleveland and Cleveland to Tampa with flying colors!!
The two "boys", Bandit and Dutch, met after a short ride home and have taken to each other affectionately. Bandit is showing his new brother off to the neighbors and is eager to teach Dutch about four-legged animals who are "TEN TIMES OUR SIZE!"
Dutch now has free roam of the house, a queen-sized bed, an in-ground pool, and a daily shower of love and affection that he sooooo deserves!
For all who read this story, please consider adopting an animal from your local shelter. Even if you find a deserving animal 1300 miles away, there are great volunteers who will help get that special friend to you. Most times, it's just a drive away to give a beautiful animal a new home. They will reward you for a lifetime, and vice versa, …just ask Dutch.