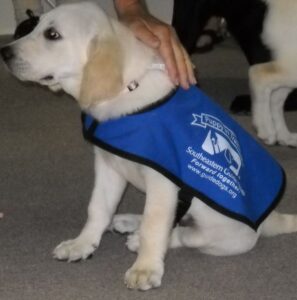 This weekend is a toybox full of events for dog lovers. . .
Saturday
From 9am-9pm: Puppy Mill Protest – Can you spare one hour on Saturday, that one hour could help make a difference in stopping Puppy Mills.  Local dog lovers have organized a demonstration in front of Petland on Fruitville to raise awareness of this inhumane treatment of dogs.  It's just 60 minutes, bring a friend for company.  Learn more here.

From 9-Noon Pups at the Point – Dogs are welcome at Historic Spanish Point, originally founded in 1910 by Mrs. Palmer Potter.  Thirty acres of this estate on the Bay connect you to the past.  Consider stopping by the Spanish Pointe Marina and Pub after for lunch in their totally renovated tiki bar with great views.
From 10am – 1pm Thinking of adding a new member to your family?  Stop by Honor Sanctuary in Bradenton  for their Dog Adoption Event.
From 11:30 – 1pm: Puppy Hugging at the Discovery Center!  Come and give a gentle hug to these adorable puppies on their way to becoming guide dogs.