The History of the Dog License
By Kristen Little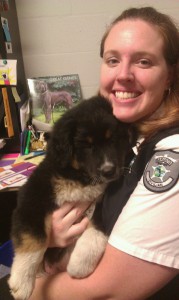 If you're anything like me, you might sit and ponder random things over your morning coffee.  Sometimes I sit over my coffee and think about nature, about bills, about why my washing machine recently decided to give its 2 week notice. Yesterday, however, I found myself pondering about dog licenses. Why do we license our dogs? How did this little metal tag that hangs off my dog's collar come to be in existence? What purpose does it serve and why is it so important?
First, I Googled. That wasn't very helpful. I found many links on how to obtain a license, and the history of Military Dog Tags, but nothing useful in my quest for information. So then I decided to ask Jeeves (ask.com).  There I finally found an article that was somewhat useful!
According to the article "Tag, You're It!" (http://workinglikeadog.com/blog/tag-youre-it/) early versions of dog licenses were actually paper. The papers came in a variety of colors with the dog's information was printed on the front and sometimes even included a printed image of the dog on the back. The oldest known dog license was issued way back in 1853 – it was a Corporation of Fredericksburg, Virginia medallion.
Dog licenses were originally made to be disposable, however, some of them have made it all these years and are collected by the International Society of Animal License Collectors.
That's great, you say, but that still doesn't explain why they were needed and why we have them today. Being that I was looking in all the wrong places, I decided to ask Tami Treadway, Kennel Supervisor at Sarasota Sheriff's Office Animal Services.  She has 20 years of experience in this field and happens to be conveniently located at the desk next to mine.
According to Tami, way back in the day before the invention of those dog tag id machines at Walmart, before the invention of the microchip, there were licenses.  Now, this is way back. Before your dog was born and probably before your dog's mom was born.  Stray dogs and cats were allowed to roam freely with owned dogs and cats. But, there was no way to tell the difference between a stray and an owned animal. That doesn't sound so bad. Introduce a Rabies epidemic.
Here we have a bunch of dogs and cats, roaming around and now there's a nasty Rabies epidemic going on.  How did they deal with a rabid dog? That's right, it was shot on site. Along with any other dogs/cats around him that might possibly be infected.  The only way, at that time, to tell which dogs were vaccinated were the licenses. Since dogs had to be vaccinated in order to purchase a license, any dog found with the pack that had a license was not shot on site.
Now that we have Leash Laws, Vaccination Laws and more humane ways of euthanizing rabid animals, you might think there is no reason for a license. However, you'd be wrong. Licensing is a very effective and affordable way for pet owners to find their lost pet.
Sarasota County mandates that a vaccinated pet purchase a new license each year. This means once a year we are in contact with pet owners and can update their information if they've moved, changed phone numbers or changed their last name. Most owners don't update their microchips or dog id tags that frequently.  The cost of a county license is $10 for animals that are spayed/neutered or $25 if your animal is not spayed/neutered. In order to receive a county license,  all you need to do is bring in the Rabies Certificate from your vet. And yes, the Rabies vaccination does need to be given by a licensed veterinarian. That is the only way, grasshopper.
Why else should we license? Well, that $10 goes to the B.O.C.C. (Board of County Commissioners). They are the ones who take in monies and divide them back out amongst the public services the county provides. We, here at Animal Services, get  our budget from the monies the B.O.C.C. takes in.  That budget covers our staff, our spay/neuter program, microchips for all the dogs and cats here, food for the animals and the general running and upkeep of the facility.
We are here 7 days a week caring for lost and stray dogs and cats. We work from early morning (7am) to late at night (11pm) to care for these animals. We have a team of 2 people dedicated to scouring the internet, newspapers and take phone calls regarding lost/stray animals in the hopes they can be reunited with their owners.
So, thinking about getting that county license? It's easy! Most veterinarians in Sarasota sell our county licenses. However, should your vet not sell the county license, or you just need an excuse to come on down to the shelter and check out our adorable adoptables – head on over to see us!
We're located at:
8451 Bee Ridge Road
Sarasota, FL
(3 miles east of I-75 on the left hand side)
You can also mail in your request for a county license. Make sure you include the Rabies Certificate from your vet and a check for $10 (if animal is spayed/neutered) or $25 (if not spayed/neutered) made payable to the B.O.C.C.
Kristen Little is the Foster/Volunteer Coordinator at Sarasota County Sheriff's Office, Animal Services