By Suzanne Quick
It's been a month now since Jamaica Joe and Ralphie came to live with us.  Ralphie the Yorkie is making all kinds of progress.  I think he knows his name, and  consistently wags his tail, if not his whole body,  he's a joy.  For all the world you would think that this little dog had almost had a normal life.  Right now, the key with Ralphie is just house-breaking.  We are working hard on this, it's getting through to him slowly and I know it will take some time.  I've got a belly-band on him, which helps – and helps keep my house clean too.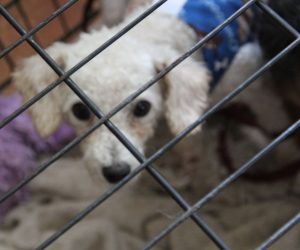 Jamaica Joe is going to take more work and a very special adoptive family who can spend the time and give the love and patience that he needs.  Yesterday, I was driving and I saw a lady in a car with a white Toy Poodle that could have been Joe's twin.  The Poodle was on her lap looking out the window and just enjoying life.  I couldn't help but think of Joe and hope that one day he too might have that kind of true bond with a person.  He still is so, so shy and fearful.   Potty training is on his to do list as well.  I'm sure that when he finds the right home and can exhale the potty training will come easier.  Joe's ideal home will probably be someone who works from home or is retired and can provide him with the stability he needs.
On Saturday the 16th, I  will be at Ramona Loves Dogs, 420 Central Avenue in Sarasota with the pups.  I hope you will come and  say hello and meet these precious dogs.  Are you the right family to give them a lifelong commitment of love?  They so deserve a second chance!