Saturday from 11-3 Meet Jamaica Joe a Toy Poodle rescued from the hoarding situation in Venice Florida.   Jamaica Joe is currently in foster and will require a loving and patient home to acclimate to family living.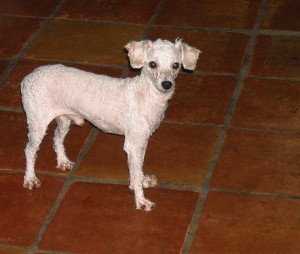 Just six pounds, and very shy Joe is being fostered by Suzanne Quick.   If you have ever considered fostering a dog this is a great opportunity to have a conversation with another pet foster parent , get some tips and a better understanding of the process. At Ramona Loves Dogs, a new pet boutique located at 420 N. Central Avenue, (just north of Fruitville on the east side of Central).
Still looking for a great activity for your child this summer?  The Humane Society of Sarasota County is offering a unique, animal-related day camp.  Monday through Friday from noon to 4, kids will not only be able interact with shelter pets but also meet llamas, miniature horses and specially trained pet therapy dogs.  Guest speakers with special expertise will share their animal know-how with your kids in a fun and entertaining format.  The $200 fee benefits the HSSC.  Call Amie at 941-955-4131  ext 101 or send a note to [email protected]
Looking to adopt a dog or cat this weekend?  Check the Sarasota Dog calendar.
Monday through Friday noon to 4, guest speakers, shelter dogs and cats, miniature horses , K-9 search and rescue and Kathy Willbanks, Llama, Pet therapy dogs, animal related crafts and games  Ages 7-12 proceeds benefit shelter animals, 955-4131 Amie Boyle ext 101 and [email protected]