Our trip to Animal Services is always our mid-week pick me up to visit with adoptables and take their pictures.  Because of the holiday this week we rescheduled for Friday.  The good news is that some of the long timers at the shelters found their homes!.  The bad news is that there was a fresh crop of new faces, some confused, some just unaware.
More than anything we were struck by the overwhelming number of cats.  Kittens, tabbies, tomcats, alley cats, feral colony cats.  A volunteer had brought in a bag of special kitty treats and watching him feed the babies was a little like watching a Disney movie.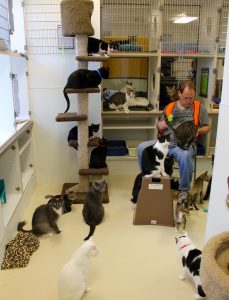 Kristen Little, Coordinator for Foster and Volunteer Services helps us choose which pets to visit with and feature here.  With so many kittens it was next to impossible to choose, here's a group shot of just one of the litters back from foster and ready for adoption.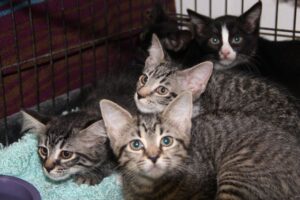 With kittens this small, they are all about you.  With just a little love and attention you will realize a lifetime of love and devotion.  So sweet.
This week's dogs were incredible!
Meet Gunner, a seven month old pup with the soul of an octogenarian.  He's playful, deep and working on his puppy manners.   Gunner walks well on a leash and is extremely curious.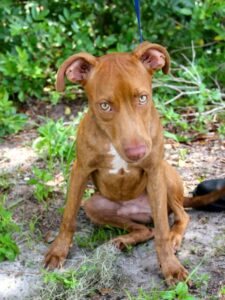 He's just a puppy!  Labrador Retriever and Pit Mix.  Gunner has been at the shelter for just about one month.  Estimated to top out at 40 lbs, he'll be medium sized.  Up-to-date on his shots and already neutered.
Next up was a delicate princess. . . Greta.  Pretty in Pink, Greta is a Red and White Pit Mix.  She is all muscle and sugar plums.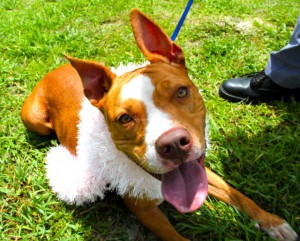 Greta was happy to be out playing with us and knows how to sit, especially if you have homemade dog cookies in your pocket.
These beautiful pets are all available at the Sarasota County Animal Services building at 8451 Bee Ridge Road.  They are open Monday-Friday 9 a.m.- 4:30 p.m Saturday 10 a.m.-4:30 p.m and even on Sunday Noon-2 p.m.
This week's pets are brought to you by ACE Pet Resort.  ACE Pet Resort is an award-winning pet care facility with a knowledgeable and caring team situated on nine beautiful acres for the discerning pet that craves personalized care and individual attention.