By:  Alisha Corsi
Everyone is probably familiar with the "hybrid" little dogs that experienced a lot of popularity over the last 20 years or so,  like the Malti-Poo or the Yorkie-Poo.  But some of the larger dogs are also being cross-bred.  The Gerberian Shepsky is one of those new mixes,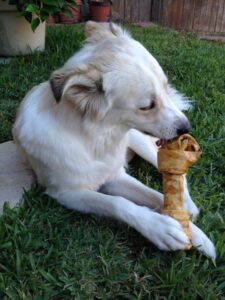 a result of breeding a German Shepherd with a Siberian Husky. The result is often striking, a large, thick-coated dog with piercing blue or brown (or one of each) eyes.  Outside of the breeders realm this mix often occurs when owners do not spay and/or neuter.
Personality traits of Shepherd-Husky mixes can be difficult to predict, as these dogs can have any percentage of the best (or worst) of either breed. It's important to be familiar with the traits of each breed and expect to see a range of both in each cross. For this reason, training mixed breeds can be a challenge, especially in the case of the Shepherd-Husky, which blends two very dominant and assertive breeds.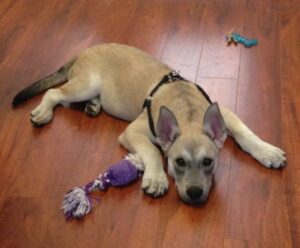 Socializing the Shepard-Husky Mix
Because both German Shepherds and Huskies have very high prey-drives, you will need to socialize your mix at a young age to ensure that other animals—or people—are not seen as prey to them. Socializing essentially means teaching your puppy to play well with others—friendly to people and other animals, without displaying any signs of aggression or fear. If possible, this process should begin prior to 12 weeks of age.
Shepherd-Husky puppies should meet as many people and animals as possible before this time. Take your puppy to supervised play dates with other puppies, adult dogs, and friendly cats. Respond to any inappropriate behavior, such as growling or biting, by immediately removing your puppy from the area and the other animal. Reward good, gentle play behavior with positive reinforcement -a  friendly voice and a pat on the head. If possible, feed your puppy together with other dogs or cats so that they do not become food aggressive.
In addition to learning to play correctly with other animals, your Shepherd-Husky mix should also learn to play nicely with adults and children. While your puppy is going through socialization training you should have guests of all ages over to your home as often as possible. Encourage your visitors to pet your puppy, pick them up, play with them, and talk to them, just as you would. Give visitors high-value treats to distribute so that new people are associated with good things. If done on a regular basis, your Shepherd-Husky puppy should  grow up to be a friendly, well-adjusted adult dog.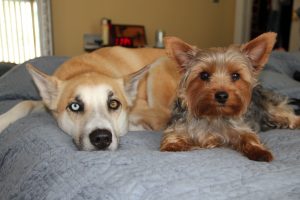 Obedience Training
Both German Shepherds and Huskies are highly intelligent dogs that are easily trained, but because Huskies tend to be stubborn, and you never know which breed's traits will be dominant, you will need to take a firm, consistent approach to training your Sheperd-Husky mix. This begins with you becoming the alpha of your "pack."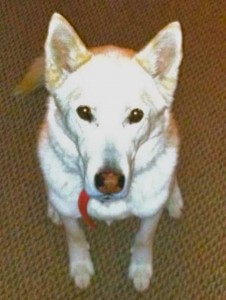 While this approach to dog training is controversial, with this particular mix of dog breed it is almost always the most effective. This does not mean inflicting corporal punishment on your dog—you should take the alpha role in a non-threatening, non-aggressive way. Let them know that they can trust you to manage situations.
To start the process, take control of your Shepherd-Husky's food. Never leave them to eat freely. Food should be set down for meal times, and removed once your dog is finished eating. If there are other humans in your home, each one should take turns feeding so that your Shepherd-Husky understands that everyone has access to his food. This will prevent him from getting upset if someone unfamiliar accidently touches his food bowl or pets him while he's eating. Having this kind of control over your Shepherd-Husky dog's  food will also give you leverage when it's time for training.
Once your Shepherd-Husky mix knows where the food comes from and can eat happily without becoming possessive when other humans or animals approach while eating, it's time to move on to basic commands like "sit," "stay," and "come." Shepherd-Husky breeds respond very well to clicker training, which will help bridge the gap between behavior and reward. Start by telling your dog to "sit" while gently tapping his bottom to the ground. Never force this!  You can easily injure a puppy's hindquarters by pushing him down.
 Another idea is to gently place your hand on the back of his knees to help guide them forward, allowing his slowly go into a sit.  Once he's sitting, press the clicker and then give him a treat. Repeat this each time your dog responds to your command. He will quickly associate the sound of the clicker with reward, which will make it easy to elicit good behavior even if you're not right at your dog's side. These simple commands can be used to redirect your dog's attention if he is displaying inappropriate behavior, and will serve as a basis for more advanced training.
In addition to knowing voice commands, it's very important that Shepherd-Huskies are taught to walk respectfully on a leash. Leash-free dog parks are not recommended for this breed, no matter how well-trained and well-behaved your Sheperd-Husky is. Accidents happen, and breed-profiling is prevalent, so chances are that your dog will not be given the benefit of the doubt in cases of bites or nips. Keeping your pup on a leash will keep playmate dogs,  your dog and other humans safe.
The Bottom Line
The key to keeping your Shepherd-Husky's assertive behavior in check is to establish the alpha role and never slack on the rules – be consistent!  If your pooch is not allowed on the furniture, this means all the time. Any lull  in enforcing this will result in your Shepherd-Husky testing the boundaries even further. Your dog should understand that you are his leader, and that all good things come from you, but will also be taken away by you if proper behavior is not shown.
Lastly, if your Shepherd-Husky is extra stubborn or if you're struggling with your role as the leader of the relationship, seek out professional obedience training. Un-doing – bad habits or  some aggressive behaviors if left for too long can be extremely difficult, so taking the time to get professional training for your dog may be the best option.
Whether you pick up on dog training techniques easily or require the assistance of a professional, socialization and obedience training are important parts of responsible Shepherd-Husky ownership. If done early and properly, your dog will be a well-behaved, friendly, and trust-worthy companion.
We recommend this amazingly durable toy for your Husky-Shep, and feeding them a balanced healthy diet!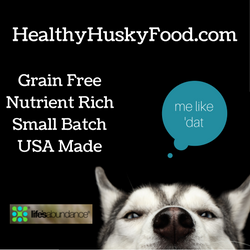 With any puppy or dog that is new to your home you should always consult your veterinarian about your dog's health and readiness for training.   Enjoy!