By Jack Littman-Quinn/Sarasota-Restaurant Reviews
Burn's Court Café is perfectly suited for the Burns Square area…
Named after noted developer and Sarasota forefather Owen Burns, Burns Square plays an integral role in the development of today's Sarasota. Located a few blocks south of Main Street at the convergence of Orange Avenue and Pineapple Avenue, Burns Square comprises historic buildings, small shops, residential condos, Florida bungalows, galleries, the Burns Court Cinema, restaurants, and café's.
With its quaint appearance and casual style, the Burns Court Café is a welcomed addition to this tightly knit community. A true Parisian café serving pastries, sandwiches, salads, smoothies, quiche, soft drinks, coffee, beer and wine, the Burns Court Café uniquely fills a gap.
We have visited the café on a number of occasions and tasted the following:
Salad: Avocado, artichoke, olives, almonds, cranberries, and mixed greens. $7.95
Nice presentation, fresh greens topped by an artichoke "flower", and served with an individual basket of bread.
Quiche of the Day: $5.50, with side salad $7.95. Sweet pepper with feta cheese.
A very savory crust, lightly filled and flavorful; very satisfying.
Tuna Salad: Tuna, onions, tomato, olives, mixed greens. $7.95
Fresh salad, the actual tuna salad had mayo and celery, the olives added texture and a slightly briny flavor.
Salami Pressed Sandwich: Salami, fontina cheese, roasted red peppers, and peppercorn mustard pressed on a Ciabatta. (Served with a small salad.) $7.95
A reasonable serving size, not too big and not too small, very flavorful, nicely toasted.
Croque Monsieur: Ham and gruyere cheese, croissant. Hot pressed sandwich, with a side of green salad. $7.95
Rich, buttery, savory, simply delicious.
Cherry Tart: $2.50
Moist, slightly sweet, delicate taste and flavor.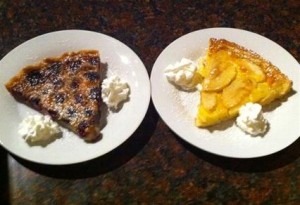 Apple Tart: $2.50
Sweet crust, light filling, crunchy apples, very satisfying.
Gelato and Sorbet: Four flavors of each. $3.50 small cup
Totally addictive.
The Burns Court Café offers an adequate selection of soft drinks, beer, and wine to accompany your meal. Since you place your order upon entering, then take a seat, the service is fast and efficient. We found the staff to be warm, welcoming, and very friendly.
As previously mentioned, the Burns Court Café perfectly fits a void for eateries in the Burns Square area; that is casual, quick-serve, good quality food served in a relaxed comfortable setting.
The Burns Court Cafe feels like it has always been part of this historic area in Sarasota. Leashed dogs are welcome on the adjoining patio which is outfitted with umbrella tables and water bowls.

Insider Tips
Beer and wine 2 for 1 Happy Hour, 5:00-7:00pm. Also, bring your Burns Court Movie Cinema ticket, and get 10% discount.

SRQ Reviews, the restaurant guide you need to find the best dining and new restaurants in Sarasota, Florida.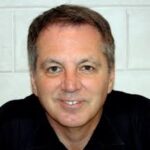 To read more reviews by Jack Littman-Quinn please visit Sarasota Restaurant Reviews.