Good golly, Miss Shollie! The German Shepherd-Collie mix (or Shollie) has become a popular breed, with owners loving the high energy and even higher level of intelligence these dogs possess. These protective yet fun-loving dogs make a great addition to an active family.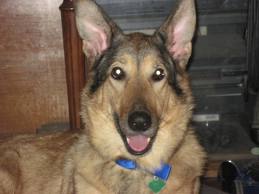 Physical Traits
Size & Weight:   Shepherd-Collie mixes tend be large dogs, with males standing at about 27-29 inches and females standing at about 21-25 inches. This mix usually takes its weight from the German Shepherd side and weighs in at 70-80 pounds.
Coat & Color:    Shollies have long, thick coats that shed twice a year. They come in a variety of colors inherited from both parents, but many have the classic brown and black markings of the German Shepherd. Their coats may also be black and white, brown and white, or light brown and golden.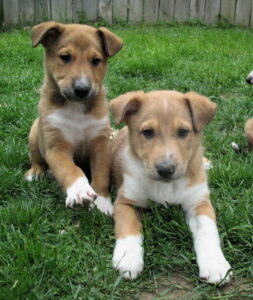 Life Expectancy: 12-15 years
Temperament
German Shepherds and Collies rank as two of the most intelligent dogs, so you can expect your Shollie to be eager to learn new things and quick to pick up on new commands.  Shepherd Collie Mixes are fiercely protective while also being very gentle with the people they love, so they make great family dogs. Full of energy and possessing a loving nature, they do best in a home where they receive lots of attention.
Something to Bark About:
Shollies descend from Hollywood royalty—the famous Lassie character featured in the movie Lassie Come Home, as well as numerous other films, was a Collie. Rin Tin Tin was a German Shepherd rescued from a World War I battlefield who later appeared in 27 Hollywood films!
Wags
·       Shollies are highly intelligent and do well at obedience and military work.
·       When properly socialized, German Shepherd-Collie Mixes do very well with children.
Yelps
·       Shollies require LOTS of exercise, so they are not suitable for apartment living. A fenced-in yard where they can run freely is must!
·       These dogs have a high prey drive and will likely chase—and possibly kill—any small animals, including cats, rabbits, and squirrels.
If you'd like to adopt a Shollie, visit your local animal shelter or contact German Shepherd or Collie rescues for more information.  For a list of Sarasota area shelters and rescues, please click here.