Cultures across the world use elements in their philosophies to help decode and interpret the environment and health.  In ancient Greece, Water, Air, Fire, Earth and Ether play a major role.  In Traditional Chinese Veterinary Medicine, we also use 5 elements , they are Wood, Fire, Earth, Metal and Water.
I'm Dr. Wendy Ying and I practice Traditional Chinese Veterinary Medicine with  5 Elements for Animals here in Sarasota. Florida.  While I am a Dr. of Veterinary Medicine, I specialize in Eastern Medicine and often work alongside traditional Veterinarians to provide complementary care.  My practice encompasses horses, cats, and dogs from lap dogs to canine athletes.
I use the 5 Element Theory to diagnose the personality of the animal and his/her human companions. The constitution of the animal makes them prone to have certain diseases when they are unbalanced. Many emotional problems of animals are direct reactions to their environment and caretakers so if i can reduce stress and conflict in the environment, both animal and human can be happier and healthier in their relationship.
A wood animal is confident, active and athletic. They can be superstar performers but are sensitive to stress and are easily angered and tend to be crabby and impatient. Woods often suffer from tendon and eye problems. They will be alpha in the herd and will need a strong and fair trainer. Example: Working police dog, Top Agility dog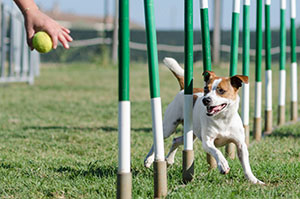 A fire animal is friendly and hyper-excitable. They are excellent show animals and love to be loved and come alive in the show ring or in front of a crowd. They are inquisitive with strangers, like to bark and are always moving. Fires are prone to cardiovascular problems and separation anxiety. A fire needs a smart, watchful trainer with a full bag to tricks to keep an easily distracted fire engaged. Example: Conformation show dog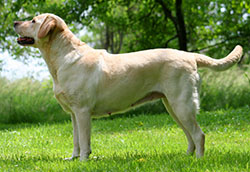 An Earth animal is friendly but lazy and laid back. They enjoy sleeping and eating and are eager to please. They are good workers once they get going on a task but tend to be slow and are not motivated to be superstars. They are happy to do what ever you are doing. Earths can be stubborn and become crabby if they feel forced into performing and are prone to GI and muscle problems. The earth is food motivated and a smart trainer will use treats and positive reinforcement. Example: Any Lab or Basset Hound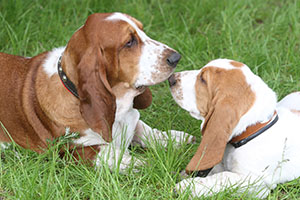 A Metal animal is very neat, quiet and confident. They are disciplined and know their job. They cannot think outside the box and don't know why anyone would want to. They are in the middle of the pecking order and love to be an only pet. They are a trainer's dream because once taught a task, will be happy to perform it the same way over and over, however they are very difficult to re-school to a new discipline. Metals often suffer from skin allergies and breathing problems. The Metal needs an organized, disciplined and determined ie Metal trainer, to be re-schooled but once trained, can be star pupils. Example: Standard Poodle.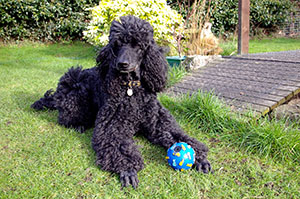 A Water animal tends to be fearful of strangers both human and other animals. They can bite when afraid will sometimes roll over and/or pee when approached. They are usually submissive to all other animals in the pack or herd. Waters tend to have problems with infertility, low back pain and arthritis. They need a patient, kind and confident trainer who can give them emotional support. Example: Runt of the litter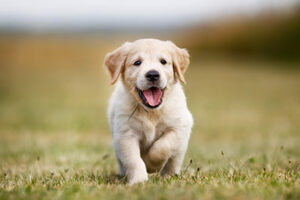 For a consultation about your dog's health, please call 941-487-0227, or drop us a line [email protected]
About Dr. Ying:
Dr. Ying is the veterinarian at 5 Elements for Animals, a mobile traditional chinese veterinary medicine practice. She offers acupuncture, chiropractic care, herbal therapy, food therapy, laser therapy, rehabilitation programs, nutritional and wellness consults for sport horses, companion and farm animals.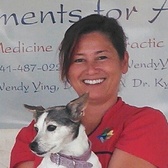 She has a great interest in pain management and physical therapy and teaches exercise classes for dogs and horses which encourage not only a healthier body but a stronger human animal bond.
Wendy competed her sportcobs in combined and pleasure driving as singles, pairs, tandems, fours and has been known to drive a unicorn but they are now retired to the backyard and go on the occasional trail ride or drive. Her constant companion, Tamika is a rat terrier who produced many well mannered carriage dogs and Wendy worked with no kill shelters and placed many happy dogs and cats. Wendy and Dr. Kyle live on a farm in Myakka Valley Ranches with the horses, 2 dogs, 2 goats, a flock of Cream Legbars along with some easter eggers and 2 adorable pet squirrels.
She co hosts the Horse Radio Network's fastest growing show, The Driving Radio Show, with Glenn the Geek, a weekly podcast about everything driving. Dr. Ying leads the TCVM segment and is a frequent guest host on Horses in the Morning, a daily live podcast about everything horsey.