Celebrate all things Irish for St. Paddy's day with a festive Martingale collar and leash from The Artful Canine!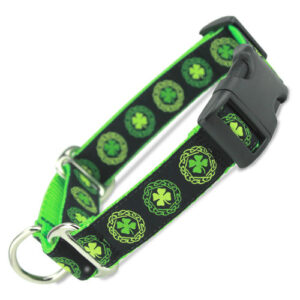 The Artful Canine is local business right here in Venice, Florida. Founded by Joanne Wood-Ellison, they create beautiful custom accessories for your dog. And you know what's great? They are working with a local rescue group to ensure that newly adopted dogs go home in style with gorgeous and safe collars. Check out The Artful Canine online, or visit them in person at 752 Commerce Drive, Suite 11 Venice, FL 34292 Call Toll Free 877-221-6462. Please note! Hours are Wed-Friday 2 pm-5 pm, and the 1st and 3rd Saturday of each month, excluding holidays from 10 am-2 pm.
Erin Go Bark for your St Paddy's Day Dog Collar!