We hear about Canine Influenza – dog flu  … on Facebook and the news.  Is this something that we need to think about in Sarasota?
Dr. Wendy Ying of 5 Elements for Animals a local veterinarian chats with our Rover Reporter about common misconceptions regarding dog flu and top concerns for dogs in Sarasota.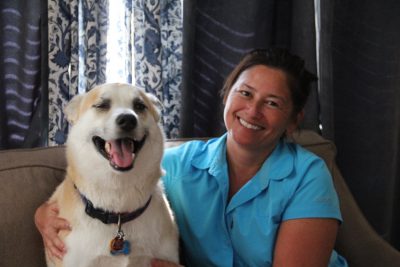 Click on the arrow to hear the straight dope about dog flu.
Dr. Ying is the veterinarian at 5 Elements for Animals, a mobile traditional chinese veterinary medicine practice.
She offers acupuncture, chiropractic care, herbal therapy, food therapy, laser therapy, rehabilitation programs, nutritional and wellness consults for dogs and cats, sport horses and farm animals. She has a great interest in pain management and physical therapy and teaches exercise classes for dogs and horses which encourage not only a healthier body but a stronger human animal bond.
Wendy has a lifetime of horse experience and grew up showing hunters in New England, then received her colors from the Los Altos Hounds while completing her undergraduate degrees in Molecular Biology and Chemistry from San Jose State University. She imported, bred and trained Registered Irish draughts and RID sport horses in North Carolina and Virginia while completing her DVM from NCSU and her Traditional Chinese Medicine degrees from Chi Institute. She competed in combined and pleasure driving with singles, pairs, tandems, fours and has been known to drive a unicorn. She has USEF national championship titles in both combined and pleasure driving. Her horses are now retired to the backyard and go on the occasional trail ride or drive.
Dr. Kyle and Dr. Wendy live on a farm in Myakka Valley Ranches with the horses, 2 dogs, 2 goats, a flock of chickens and ducks.
Sarasota Dog is an online resource for all things dog in Sarasota.  Find a groomer, trainer, pet sitter or boarding facilities and more  for your dog, right here in the Doggie Directory!