Did you know that pets that are microchipped are 50% more likely to returned to their owners if lost?
Did you know that pet-friendly hurricane shelters require proof of shots?
In preparation for Hurricane Irma, Animal Rescue Coalition will hold a vaccine and microchip clinic on Thursday, September 7, 2017, from 830 am to 3 pm.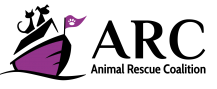 No appointment is necessary.   NO OTHER SERVICES WILL BE AVAILABLE.  Cash or Credit Card Payment only.
All vaccines and microchips will be $10.00 each, reduced from regular price of $15.00
All cats must arrive in carriers, and dogs on leashes or in carriers if appropriate.
Animal Rescue Coalition, 6320 Tower Lane  Sarasota, FL  342400
About Animal Rescue Coalition
With an abundance of animals and a shortage of homes, shelter dogs and cats are euthanized by the thousands every day. Our local shelters were no exception. Ira Barsky and Edward Sarbey wanted to end this crisis. So in 1999, they brought together leaders from local animal welfare organizations and Sarasota County Animal Services to make a plan. With collaboration, they found a way to spread the word and make a difference. They made spaying and neutering available to as many pet owners as they could reach. Animal Rescue Coalition (ARC) was launched.