Hurricane Dorian has rained down tragedy on the Bahamian Islands, less than 200 miles from the coast of Florida. Most have lost their homes. The impact on pets has been beyond tragic.
A local business, DIY Dog of Sarasota is taking action by personally bringing help to the Humane Society of Bahamas, and you can help too. They are collecting metal bowls, leashes, collars. treats, and  toys to take to the Bahamas on October 7th.  You can purchase some of these items at 50% off at DIY Dog, or bring your gently used items for donation.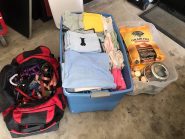 We asked Patti Kaighn how she got this plan together. "I've been following the effects of Dorian closely and just wondered how we could help. After lots of phone calls I found, Baark (Bahama Alliance for Animal Rights and Kindness) which is similar to ARC here. It was through them that we found out many of the dogs ended up in New Providence in Nassau."
Through these communications she also learned that about 60 dogs made their way to Big Dog Ranch Rescue near West Palm, FL recently since the hurricane. So if there is an overage of goods, or more than they can carry, they will deliver some to BDRR or to Tropical Shipping in Miami who is sending things directly over to other parts of the Bahamas with their shipments.
Patti and her husband Greg will also be packing their grooming tools. They are hoping to soothe some paws and tails while they are on the ground in Nassau.

DIY Dog of Sarasota is located at 3595 Weber Street on the north west corner. (941) 702-0763–