On a sultry evening last week, members of the Sarasota Dog Meetup were treated to practical tips for best behavior from dogs. Iris Eastman made the presentation based on her decades long experience working with shelter pets and her own dogs. Jennifer Hummel, Owner of Ace Pet Resort hosted the event and also shared her extensive knowledge of dog training.
Ms. Eastman covered some basic do's and don'ts that were familiar to some of us and new to others.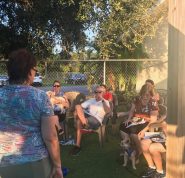 Barking is a problem from time to time for almost all dogs. We learned to distract them by redirecting their attention, then praised when quiet ensued. A canned air product was recommended with the caveat to never, ever point it at the dog's face. The idea is to startle/distract and break the barking concentration. It works!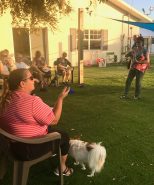 Another great reminder is to not allow your dog to play with another dog while on leash – for safety reasons. But also, on the topic of leashes, we discussed the dangers of the retractable – flexi-leashes. Often owners using this type of leash will allow their pets to walk a distance ahead of them. Dogs can take a corner (out of site) and surprise another dog, or even a wild animal on a trail. The sound of a flexi-leash that is dropped could also spook your dog – compelling him to run. Scary for everyone!
Lunging, greeting strangers and restaurant behavior were also covered. Did you know that servers are not allowed to touch your dog in a restaurant? If they do it, they must wash their hands or the establishment could lose their permit. Keeping your dog next to you, on a mat is the best way to enjoy an evening out with your pup. You can practice this at home until both you and the dog are comfortable with this behavior. Place a treat on the mat – then tell your dog to "Place" – after a week or two, your dog will pick up on what is desired.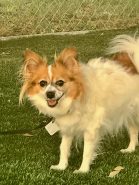 Just a few of the tips we learned to help us live more harmoniously with our dogs. It was fun! If you'd like to arrange for a dog training consult with Iris Eastman, please call 941-356-4330 or send her a text.
Are you planning a trip?   Need a trusted, loving environment for your pet while you are away  
Ace Pet Resort is your answer, you'll have more fun know your pet is safe and getting the very best of care.  In Sarasota call 941-921-4355 or in Bradenton, 941-708-0811
Are you interested in meeting other dog lovers? The Sarasota Dog Meetup, and the Sarasota Small Breed Dog meetup gets together about once a month at local dog parks, restaurants and other dog-friendly venues. Joining is fast, secure and free. See you around town!