The first days after losing a pet can be the hardest.   Some of us may make a vow to ourselves … no more pets … this is too much pain.  Others know that as soon as they can, they will want to find another.   Not as a replacement but to start a new chapter, and bring back that special energy to the household. 
Barbara and Jim Farrel fall in the into the latter camp. Over the course of their 48 year marriage, they could count on one hand the number of days of their marriage, when there wasn't a dog at home.
After a long hospice period with their senior Shih-Tzu, the weight of their grief was untenable.  Fighting through her tears, Barbara started to reach out to rescues to find a new family member.   Some did not return her calls, and a few blatantly said, "You're too old".  The Farrels offered to furnish the rescue organization with the plans that were in place for the pet should they precede the dog in death, vet reference and more but were still rebuffed.
Feeling that there was no hope for adoption, Barbara went against her better judgement, and called Petland in Fort Myers.  "Yes!  They Shih-Tzu that would be perfect for them", the clerk told them, and the Farrels were out the door and on I75 from their home in Venice.   When they arrived though, they were told that that dog had been sold.just 15 minutes ago. Stunned, but taking a breath Barbara questioned the clerk, "Where are these dogs coming from?"  and was assured that Petland only worked with highly rated and reputable breeders.
Feeling that they would be frozen out again, Barbara asked if there were any other Shih-Tzu's.   The clerk left the room and retuned with a puppy but said, "She has a little cough". 
While Barbara petted the dog she felt a sense of connection. Undaunted by the clerk's warning, Jim plopped down the $3000.00 for the puppy hoping that this would ease their pain and that they could bring the dog home and make her healthy.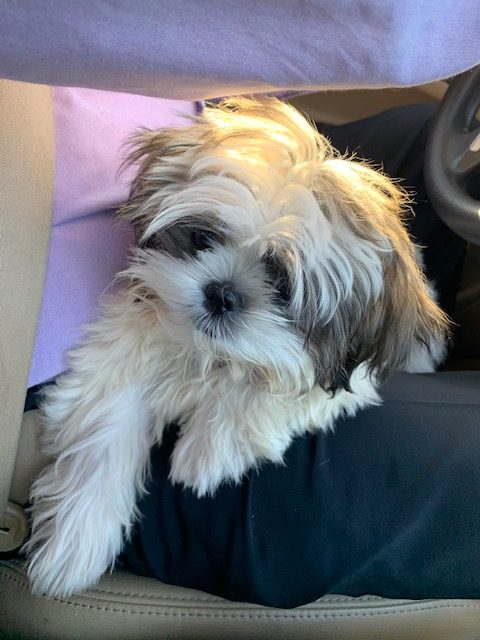 After the transaction … The Farrels were told that they could not take the dog home as she was not well enough.  Over the next ten days, Barbara and Jim made several trips to see their puppy now named, Tashi, at Petland who was purported to be under the care of a veterinarian.   Finally on their third trip (?) noting that there was no improvement in the the puppy's health, they demanded to be able to take her home.  The clerks checked with the veterinarian, and returned with a printed statement for them to sign that confirmed that they were the Critical Care Fosters.
When Barbara asked what that meant,  she was told that in the event Tashi did not live, that Petland would replace the dog with no additional charge.   Horrified, the Farrel's were willing to do anything to get out of there with Tashi, they signed some papers saying that would not seek veterinary care outside of Petland.   
Along with those papers came some other concerning documents including the medical records with dosage of medicine.   After further research, they learned that Tashi was being inappropriately dosed and ergo her lack of improvement.   With the med's straightened out and proper food, love ability to play and exercise beyond a 3×3 wire crate, the puppy began to improve.
As Tashi got better, Barbara was able to focus and began to go over the rest of the paper work that Petland provided.  One of the pieces stated the kennel/breeder from which Tashi had been purchased.  A quick google search turned up the result Barbara feared, it was in fact a puppy mill with terrible reviews and a history of producing sick dogs.
Tashi is now five months old, and a happy, healthy puppy.  Had the Farrels not come along, no doubt she'd be dead.  Improperly dosed, and cared for; she wouldn't have been able to gain the weight she desperately needed to survive.    
We are sharing this story not as a tea- jerker but as a way to raise awareness.   There are a number of epic fails that took place in the story.   Barbara and Jim were under extreme emotional duress and hindsight being 20:20 could have looked further for a breeder or another rescue.   The rescues that they contacted could have worked with them more personally to find a solution and place a dog.  No doubt they are under-staffed and need more volunteers.   Finally, Petland was not honest with Barbara and in fact Tashi was purchased from a reputable breeder but a place that has a reputation for factory-farming of dogs.
How can we work together to stop this?   
1. Tell everyone you know not to shop at retail outlets for dogs or cats.
2.  Get involved!  Have a few hours?  Volunteer at a rescue or shelter.  Almost all of them need help.   If you give them an hour that time could "trickle up" and allow the administrators to concentrate on their policies. 
Already run a rescue?  Is there a way to rethink adopting to seniors that would be a beneficial solution for all?  
3. Spread the word to ADOPT not Shop.   There are a number of groups on Facebook and meetup.com advocating for ban on retails sales of pets.  Google it.
4.  If you feel you need a specific breed of dog, that's your right.  You can find a reputable breeder – they are out there!  Don't just consider AKC certification as validation, talk to friends, pose the question on facebook, you can find the right breeder. Also, most likely there is a rescue group focusing on your preferred breed of dog.  
5. Never ever set foot in one of these stores.  By supporting them,  you are contributing to animal cruelty, and you could even get sick yourself.