Have you wondered about the differences in vet care? Complementary, Alternative or Traditional Chinese Veterinary Medicine? We chatted with Dr. Wendy Ying, of Holistic Veterinary House Calls about these modalities, how they can help and where to learn more. Check it out!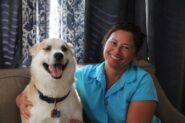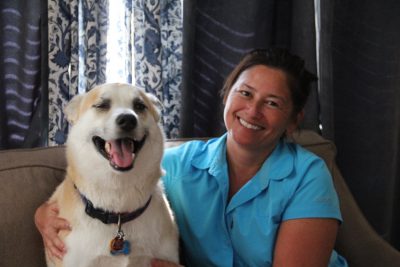 In the event that you can't listen, feel free to peruse our transcript below. Want to subscribe on Apple podcasts? This link will take you there.
Have a question about your dog? From behavior, healthcare, training and the human-animal bond, The Rover Reporter is on the trail of information that can help you and your dog. Send us a note to: [email protected],com, and we will research your question.
Announcer: Welcome to your DogCast, where we feature news just for dog lovers. Here's your Rover reporter, Mary Lou Davidson. Hey everybody. Welcome to the Rover Reporter
RR: Today. we're going to be looking at a topic that we all are concerned about. Everybody wonders about, and that's veterinary healthcare. Most of us have a traditional veterinarian for our pet. , and at times we've gone to see a specialist, whether it be an orthopedist or an ophthalmologist, but there's another kind of veterinary care, which is traditional Chinese veterinary medical care. It's a holistic practice. It looks at the entire pet, but it offers some complimentary treatments and, alternatives for rehabilitation and suggestions for nutrition. And I was lucky enough to be able to find an expert Dr. Wendy yang, and she is not only a doctor of veterinary medicine, but also a Chinese veterinary medicine practitioner. Hey Wendy, how are you?
Dr. Ying: Thanks for having me on
Thank you so much. This is one of those topics that people get confused about. And when you think about a holistic or Chinese veterinary medicine vet, you wonder, do I still need to have my regular vet? And the answer is
Dr. Ying:,you should have a great relationship with your regular pet! Our dogs hide a lot of their medical issues, right? So sometimes we don't see that they're hurting until the disease has progressed along quite far. So I think it's really important that people have a solid relationship with their veterinarian and they should go in at the minim once a year, whether you're, you know, for just a checkup. So whether you need vaccines at that time or not, , it's great for your vet to be able to see your pet when they're healthy. So then when your pet is sick or acting a little funny, as in vet medicine, we call it ADR and doing right. Then they have a baseline to see where they are. Like, sometimes you might think your dog's a little like lethargic, but if I don't know what your dog looks like, normally it's hard for me to assess that maybe that he's just a personality. Maybe he's just a lazy guy,
RR: You know, that acronym that you just used a quite right. , are there other things everybody's, everybody's pet has a folder at the vet office, right. And it's always frantically scribbling notes and I've always wondered what they're saying. Are they writing things like something ain't quite right or
Dr. Ying: ADR? That's the term that, we, a lot of farm people use, like, it's like, I don't know, "Doc, he ain't doing right." So we use ADR meaning,, the client suspects, the clients suspect something's wrong, but they don't know what's wrong, which usually involves like some kind of internal, internal, , issue. Like, , like I have a patient right now. Okay. She's a cute little, shih tzu. And she has a disease called auto immune hemolytic anemia, meaning that she is making antibodies to her own red blood cells. And then it causes those red blood cells to burst and she has anemia. Right? So her blood can't carry enough oxygen, but she's like a Shih Tzu that just lays around anyways. But her owner noticed that she's she was lethargic. And so when she went into the veterinarian, you can't see that from the outside. Maybe we see her gs are a little bit pale, but there are lots of reasons why that would be, but until you pull the blood and, and do a blood panel, you wouldn't know that that dog had anemia.
RR: And that's something you do at your, your regular vet, your traditional that your general practitioner,
Dr. Ying: Right? Yeah. Well, like in that case, , like I am doing the acupuncture and herbal therapies for that dog, but her general practitioner is monitoring her, , red blood cell level and giving her, , in this case, you have to have steroids. Steroids are a very important part of this treatment process. , so we're working together on this case.
RR: hat's awesome. By the way, everyone, Wendy's practice is called Holistic Veterinary House Calls. And she does, along with her partner, , chiropractic care for pets, companion animals, you know, dogs, cats as well as horses and her partner is Dr. Kyle. And he is a doctor of chiropracty and an instructor at the Chi Institute. Wendy is also a podcast host and she, she runs the show, , works with, the folks who run the show at horse radio.
DR. Ying That's right.
RR: So, we're in good hands. Tell us a little bit about the basic tenants of traditional Chinese veterinary medicine,
Dr. Ying:  Chinese medicine, TCVM kind of seems like from the outside, when you look at it, like, like my whole family, my Chinese side of my family, they're all like medical doctors or engineers. Right? So they think like Chinese medicine is something my crazy grandmother thinks about it's folk medicine, which you can kind of think about that as folk medicine, but the history of TCV. Yeah. We go back to these ancient texts from 400 BC that evolved that, , some people, people that were, you know, they may be mythical or they may be real people. It was 400 BC, right? So we talked about the yellow emperor and this divine farmer, and they believe that the health of the body was dependent on how you're imbalanced with your environment, , your diet and lifestyle. So, I mean, that makes sense. Right. But interestingly enough, at the same time in Greece, that was what Hippocrates was, , developing that same philosophy of medicine. 
Because before that people thought in both East and the West people thought, , you know, you got sick because evil spirits, you know, brought this on you or somebody cursed you or blah, blah, blah. But it was just fate. But, , in both sides of the world at this time, people were realizing that no, it's, it's how you live your life. It's what you put into your body. And those are things that we think about now. So even though it seems like we haven't, evolved in the same way Western medicine has evolved. , there is a lot of scientific research that, , that kind of validates, , acupuncture, herbal therapies. And, , and also,  in TCVM like, we realize that, okay, if you break your leg, then you need surgery and get your leg set, but we can't do acupuncture for that. It's not, it's not magic. No, it's not magic. So, so TCPM has kind of gone to the way of like wellness, , and, , like long-term goals for health. Whereas,  you know, Western medicine in it, there's you have the emergency part and then you have, , long-term goals using pharmaceuticals and things like that. So it is very similar. It's just, they've kind of grown to separate areas. 
RR: So let's talk about treatment options that you would deploy in TCV M okay.
Dr. Wendy Ying: Everybody knows about acupuncture. And we've talked about that before. So acupuncture, you're using needles to stimulate acupuncture points. And what that does is it stimulates the body. It stimulates a reaction in the body like modern research is showing that what it probably does is it stimulates the cells talking to each other, right? So like, that's why it can stimulate your immune system. It can help with hormones and things like that. And then herbal formulas are very similar to pharmaceuticals they're for the most part, sometimes it's minerals and they have certain actions similarly to pharmaceuticals and then, , chiropractic or spinal manipulation. There's tons of, , everybody's very familiar with that. Everybody loves to get their back cracked. And, , then also some newer therapies that we use on TCBs involve laser because not everybody especially pets, like, , like needles and with the laser, we can actually stimulate the acupuncture points.
So I sometimes use that in practice, but also laser therapy itself. , even if I'm not doing an acupuncture point using laser therapy, , what it does is the light gets absorbed by the cell and the little engine inside the cell speeds up. And, and then it speeds healing. So for example, like if say you strain your tendon, right. And, you know, okay, I strained my tendon, your body has to fix that, right? That, that healing process is determined by how quickly your body makes new collagen and fixes this tendon. So the laser therapy can help speed up the, the metabolism of the cells that make collagen. So that's quickly healing your tendon, but also we know like vitamin C is really important for tendon repair for the strength of the tendon. So we also would add herbal formulas that contain high amounts of vitamin C. And then you can also eat foods like citrus fruits that are high in vitamin C and all of those things together could work to help heal the tendon plus you need to rest.
RR: Right. And, and when you do the actual laser therapy, what is that process? Do you have a machine? Do you bring the animals somewhere? How does it work?
Dr. Wendy Ying: Oh yeah. Well, I always joke because I have this new laser and it's great. It's tiny and it's really safe. And I, my old laser, I felt like I was using the bag phone, remember the bag phone, you know, my, all my shirt was really big. It was small, portable one. I was smaller than the really, really big lasers, but, , it was still really big. And it w there were some, , you know, dangerous to it. It caused, , some heating of the tissue and it also could damage your eyes. So the new lasers that we have now, we've realized that, the frequency of the laser, turning on and off, like the frequency that we deliver, the laser light therapy also has some benefits. And because of that research, , we can actually use lasers that are a little bit less, but more but safer. And those are much better for the animals.
RR Okay. Is it like a wand?
It's like, ,going back to the phone thing, remember those old phones that you were on your wall and you pick it up and hold it by your ear. It's about that size.
RR: Okay. So not too overwhelming for a small dog?
Dr. Ying: Yeah. And it has different, , it has different heads on it. So like, if I'm doing acupuncture, I have one that has a head that I can make it to be like a little tiny point. And then I have one that's wider that I use, like, like I was working on a two-hour today that hurt his back. So I have one that's like a flat disc am. I can cover a lot more space.
RR: So this new laser machine that you have, has it replaced the need to use needles then? Pretty much?
Dr. Ying: Well, I still like to use needles. But actually I, I did my master's thesis on using laser acupuncture to relax horses. And, , I did prove that there was a significant difference in, , like that I was getting actual results from the laser, and there are many studies out there where laser acupuncture does work. And you do see the same kind of results you see with the needles. But, , a lot of times I want to use needles, especially in horses because the laser only goes, , like maybe a centimeter. So I, the, the laser, I can do points that are close to the surface, like on the path, because dogs don't like needles in their paw. Right. You would, you want a needle like in between your, your fingers? Right. So I can use laser there, but then like, say I have a big dog with hip arthritis. Then in that dog, I want to use longer needles so that I can get deep into the tissue.
RR: So how long have you been practicing traditional Chinese veterinary medicine?
Dr. Ying: Well, I, , I actually, , I graduated from North Carolina state in 99, and then I was certified for, , acupuncture and 2004. So I can't believe it's been that long, but it's been quite a while. And, , and then I, , have gone through and I finished my master's in 2015, I guess, 2015. I, I really feel, I feel, I really feel lucky that I have, that I got into veterinary acupuncture in the United States in this time, because I feel like even in the time that I've been in is become more and more accepted. And, , I see it really helping a lot of pets
RR: Much more. And I think, of course, since we're accepting these non-traditional forms of han health care, it makes it that much easier to transition that way for our pets. Right. Tell us about Cutie pie and her story or his life.
Dr. Ying:   Okay. Cutie pie is like one of my favorite patients. Whenever I see her on our schedule, I'm like, Oh, so glad we could see cutie pie, but her situation is very, a very common one. So she is, yeah. Cutie pie is a little Shi Tzu about eight years old. So pretty young, like midlife, but she has a defect in her left front leg. Like she's one of these dogs that have a twisted leg. Right. So when she puts her foot down, her, her pawpoints like 90 degrees from where it should. So we, so that puts a lot of stress on her, her carpus or her wrist. And she had an injury where, of course this is a small dogs, jump off. She loves to jumpp off the sofa. So she jumped off, the sofa, hurt her back. So her owner called us out for the back pain. 
But when I went over her, I realized also that she has, luxating patella, which that's super common in small dogs. And what that means is her knee cap kind of goes off, it slips off of her femur, right. It doesn't track in the right way. And then she holds her little hind leg up and it looks like she's skipping, it's not painful, but, you might see that in your dog that sometimes does happen. And, so besides her back, I also realized that her patella had gone from like a low grade issue to a more higher grade issue where she was limping all the time. So we, we worked on her for her back and for her patella, got her going good. But now, , you know, she, every once in a while has, because her left front, she has an issue her right hind  knee cap comes out more than the left also when it comes out like that, et cetera, for arthritis, right? 
Because it's sliding yes. Off bones. So with Cutie Pie, it's been really rewarding for that case, because even though I had to fix her back injury, that was an acute problem. I saw her early enough in the course of this disease, her chronic issues, that we could really help that a lot with chiropractic and with acupuncture. And we have her on, , and in this case, we did have run some herbs in the beginning when her back was really sore. But for her long-term, we have run a supplement that, , has anti-inflammatory herbs in it. And it's a flat based supplement and it protects her joints. She, it has, , it has, , like it's like Cosequin for dogs, but it's in a little flat space formula with some herbs and she can stay on that for life. And then that will really, , offset the chance of her having arthritis early on. Now, hopefully we'll get her through to live a very happy long life, even though she has some congenital deformities in our little front leg and in our knee. 
RR:   Right. So that's super cool that you spotted it and you were able to offer a treatment to help ward off early onset arthritis too,
Dr. Ying:  Yeah. And that's what I'm mean like with, , why you need a good relationship with your Vet because, this client also, , she only went to the that when she needed vaccines or had the injury, but, you know, maybe she had a relationship with the vet to have, , a lifelong wellness plan, which I think we're having that more and more these days, people want a lifelong wellness plan for their animal. Like that could be,, that could have been diagnosed at the beginning. You know, sometimes puppies have that and they grow out of it. But if they haven't grown out of it in a year or two, then your, your vet will say any, that would, that would say, Hey, let's put her on some arthritis formula, as a supplement to help her joints. And if you see her limping, bring her in and we'll do something, laser or acupuncture.
RR:  Right. And because as you said, dogs mask so much, she could be struggling, but acting like she's just fine. Right. if people want to read more about TCVM , , do you have any books that you recommend or website? 
Dr. Ying Yeah, there's a great book. That's called  Four Paws Five Directions written by a Vet Dr. Cheryl Schwartz. She's in California. She is fantastic. I've learned so much from her. She has just this way of looking at animals that really opened my eyes a lot. , and this four pause, five directions goes into the Chinese medicine theory of the five elements. , and it's written for pet owners. 
So it was written by the vet, but it's written for pet owners. So it's a really good read and there's lots of cases in there. And then, Dr. Dan Callan, he's a people doctor, an MD. He was an emergency medicine doctor, and then he was trained in acupuncture and he's also an embryologist and his books are so great. If you want to dive deeper into the science of acupuncture, his books, he wrote spark in the machine probably 10 years ago.
And it's, it really is an easy to understand book about, Chinese medicine. And then the hidden body is more of a, like a text that you can use if you want to learn more about the meridians and how the organs function together. But spark in the machine has some really fantastic case studies that he has done. , and a lot, a lot of his case studies or when he was still working in the ER and then incorporating Chinese medicine into some of his patients in the ER. And that book is you can get it as an audio book. And it's a great,
Want to learn more about Dr. Ying? Please visit http://Dr.WendyYing.com
Subscribe: RSS