Often called a Labrabull or Pitador, the Labrador-Pitbull Mix has become an increasingly popular breed in recent years. And it's no wonder, since this mix brings together the energetic, playful personality of the Labrador Retriever with the intelligence and loyalty of the Pitbull.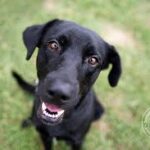 Physical Traits
Size & Weight: Labrabulls stand between 14-24 inches at the shoulders, depending on which breed they favor (Labs tend to be taller than Pit Bulls), and weigh up to 100 pounds, although most will be a bit lighter at about 75 pounds.
Coat & Color:  Labrabulls have short, smooth coats that can be a variety of colors, from solid black, yellow, or chocolate, to the unique brindle or merle often seen in Pit Bulls.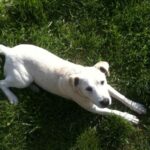 Life Expectancy: 10-12 years
Temperament
Whenever breeds are mixed, it's always a guess as to which traits from which breed will be more dominant, as it's rarely as simple as a 50/50 blend. Generally, Labrabulls are smart, playful, and obedient. Both the Lab and Pit Bull are very eager to please their masters, and for this reason the Labrabull makes for a great family or watch dog. A very playful dog, Labrabulls will learn tricks easily, spend all day playing fetch, and may enjoy swims in the ocean or lake.
Something to Bark About: While the Labrabull is not a breed recognized by the AKC, owners of this breed insist they are one of the best dogs a family could have. Their attentiveness and alertness make them great watch dogs, but friendly towards strangers once they sense that their owner considers them a friend. Labrabull owners are sure that these dogs inherit only the very best traits of both the Labrador and Pit Bull.
Wags
Lab – Pit mixes make great watch dogs.
 Labrabulls are very intelligent, playful, and loyal.
Labs and Pits are both very attuned to their owner's emotions, so Labrabulls rarely require punishment—often a stern look or turn of your back is enough to let the Labrabull know that you are displeased.
Yelps
Labrabulls tend to be very energetic and require a yard or lots of daily exercise.
Both Labs and Pits like to wrestle and play fight with other dogs, so it's important to socialize them at a young age to play gently.
Before bringing a cat or other small animal into the home, Labrabulls should be properly socialized, with slow introductions that are supervised, as they tend to have strong hunting instincts.
If you'd like to find an adoptable Labrabull in your area, visit Petfinder.com or Satchel's Last Resort to find your perfect match.