Nothing says lovin' like dog biscuits in the oven!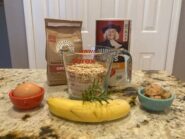 Especially on a chilly January day. Chances are you have all of these ingredients in the pantry. Check out this easy recipe for Rosemary Peanut Butter Crisps.
Preheat oven to 300°
One cup of organic whole wheat flour
2/3 of a cup of rolled oats,
1 banana,
1 tsp fresh rosemary, minced
3 tablespoons of peanut butter
1 egg
Mash banana and egg, stir in all other ingredients, mix well, let rest about 10 minutes. Roll into 1 inch balls, then smash down lightly and bake on nonstick baking sheet. Approximately 40 minutes until browned and crisp.
Enjoy!