For the weeks before bringing Havi home, I did several things differently than my last two dogs. Previously, both adoptions were sudden and unexpected. This time was different. I was preparing myself mentally and getting the house "puppy safe." I had several weeks to plan.
Really Educating Myself
The first thing I did was watch YouTube videos. These helpful tutorials were not available previously. Now, many experts have posted helpful videos about puppy socialization and training. Each one had a pearl of wisdom. Specifically, it became clear that the term "Positive Reinforcement" was heavily emphasized. Positive reinforcement occurs when a behavior is encouraged by rewards. It is very different from negative reinforcement. Negative reinforcement is either imposing something undesirable or taking away a positive stimulus to weaken or eliminate a behavior. Confused yet? It took me a bit to completely understand.
Positive reinforcement involves IGNORING the behavior you don't want and rewarding only that behavior you do want. For instance, if the puppy is jumping too much, you don't punish or say "NO!" Simply ignore the jumping. When the puppy gets calm and sits down, you reward that with affection, treats, and a "good dog!" This type of training will extinguish the jumping as the puppy learns that attention and rewards come from calm behavior.
In the past, trainers may have used punishment for jumping. The result would be a knee to the dog's chest or a shock collar. While this may be effective in the short term, it will harm the dog's psyche long term. It doesn't give him the knowledge of what behavior you DO WANT. He knows what you don't want but may become anxious or submissive. Positive reinforcement increases the dog's confidence and spirit as they quickly learn what you want, and dogs want to please us. We don't have the use the two-letter word, "NO!"
A Helpful Book
An excellent, award-winning book uses this technique for both socialization and training. "Training the Best Dog Ever – A Five-Week Program using the Power of Positive Reinforcement," by Dawn Sylvia-Stasiewicz and Larry Kay. The book is for both puppies and adult dogs. It is clearly written with step-by-step instructions, illustrations, and checklists. With only 10-20 minutes a day, anyone can do basic training and learn how to effectively socialize a puppy to become a calm, well-behaved, and joyful companion. It breaks down each week into goals and clear instructions. It will be my guide when Havi finally comes home.
Puppy-Proofing The House!
My house needed preparation too. Puppies chew! I put my shoes high on a rack or in a closet. I made sure all the cords were safely out of reach. I planned which areas of the house would be off-limits. I have tile in all areas except the bedrooms, so initially, I will close all the doors to keep him in a well-defined puppy safe zone. Tile floors are excellent too. In case of potty accidents, it's easy to clean up. I set up his food and water bowls. I found him a lovely, comfortable crate – not too big or small.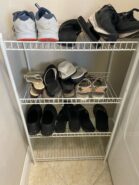 Preparing for Veterinary Exams and Grooming
I didn't do a good job of desensitizing my last chihuahua to grooming, and it was a lifelong battle. This time, I found good tips from the book. They recommend spending a few minutes every day touching paws so future nail clipping is easier. Daily brushing and handling so they are comfortable with vet appointments or groomers. Finally, they especially need to get used to dental care. Chihuahuas often have poor dental health, so they must be relaxed with daily home cleanings. Progressive desensitization is the key. The book details how to do this.
In future articles I will share my weekly progress with Havi at home!!!