Many of us remember the Saturday morning cartoon episodes with cunning kitty cats outsmarting the good-natured but dim-witted family dog. The truth is that with responsible pet parenting, cats and dogs can get along just fine – and even enjoy each other's company.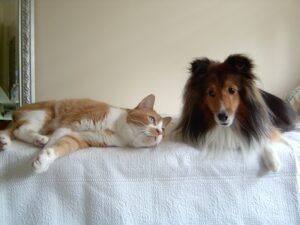 The cat and dog featured in this image, are not actual housemates but just friends photographed in the cat's home where the dog is a frequent visitor.
Cats can bring a whole new dimension of animal love to your home and family. Animal Services in Sarasota generally celebrates Adopt A Cat month in June with reduced fees on dozens of kitties in their care. When you adopt a cat from Animal Services it will be neutered or spayed and be current on rabies vaccination for a one year period.
Visit with the available kittens and cats at 8451 Bee Ridge Road, Sarasota, FL
Monday-Friday 9 a.m.- 4:30 p.m.
Saturday 10 a.m.-4:30 p.m.
Sunday Noon-2 p.m.
To view adoptable animals currently available click here.