Contributed by Aubrey Bird
According to the statistics, about 69% of US households have a dog. Another 45% have a cats in the home. For sure, there is a lot of overlap and interspecies mingling among our four-legged friends. For all the cat people out there, here are some tips your should know about caring for kitty. Why do cats need grooming? Don't they groom themselves?
Well, yes and no. Yes, most cats are self grooming, however that doesn't mean that's all they need. Let's discuss the reasons cats need grooming on a regular basis.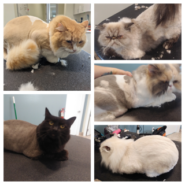 1 – Long haired cats get matted.
Medium and long hair cats can get very painful mats, especially on their belly, thighs and armpits. While your cat may be self-grooming (aka licking itself) daily, this isn't doing much to keep that hair tangle free and most cats don't care for the hair to be brushed on their sensitive bellies. Taking your cat to the groomer regularly means a trained professional can keep their hair maintain with options like monthly bathing and brushing, trimming that pesky belly/thigh hair, or maybe even a shave down or lion cut. Matting can be very painful and pull on the skin, while your cat may not be a big fan of going to the groomer, they will be much happier in the long run when their coat is comfortable and healthy.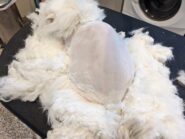 2 – Short hair cats can go through shedding spurts cause excessive hairballs.
Depending on the breed short hair cats can go through periods of extra shedding. If your cat is self grooming and ingesting all that hair it can cause problematic hairballs. By getting a regular bath and brush out for your cat you're ensuring their coat will be healthy and they won't suffer from as many hairballs.
3 – As they age, cats will self groom less and less.
Medium and short haired cats can sometimes go their whole lives without having a mat or tangle. However, as they get older they will self groom less and their loose shedding hair will stay in their coat. That combined with a more sedentary lifestyle can cause it to become impacted and suddenly for the first time your cat is matted. Bringing in a senior cat for it's first bath and brush out at 15 years old can be very traumatic, not to mention if they have to be shaved due to matting! If your cat has experience going to the groomer it's whole life, when that time comes your cat will be better prepared and the experience can be a normal one, rather than a traumatic one.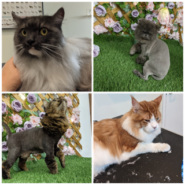 4 – It can help for owners who have allergies.
Many people are allergic to cat saliva or dander. Whatever the cause is, a nice bath will help keep your allergy symptoms at bay.
5 – Nails trims are grooming too.
If your cat climbs your furniture, walls or legs, a nail trim can be very helpful. A great alternative to declawing, regular nail trims keep your cats nails short and blunt rather than tiny daggers they wield without regard. We also offer Soft Paws, soft, rubbery caps that attach to a cats nails and provide extra protection for you and your valuables.
6 – Your cat sees your groomer more than your vet
Groomers spend more time with your cat than your vet does, and often times, the groomer will spot health issues that both you and your vet may miss. When a groomer is brushing and drying a cat they see every inch of their skin. Issues that develop slowly and may go unnoticed to you can be more apparent to someone who sees your cat every 8 weeks instead. While a groomer cannot (and should not) make a medical diagnosis, they can alert you to things that need a vet's attention.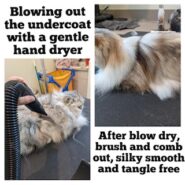 To help your cat with their grooming needs at home we recommend regularly brushing and combing. For a medium to long haired cat a Slicker Brush with long bristles and a Metal Greyhound Comb are going to help keep the coat tangle free between visits. Pay special attention to high friction areas like the thighs and armpits.
For short haired cats a rubber curry brush such as a Zoom Groom can be really helpful when that heavy shedding sets in. The hair can really fly with that though so I recommend using it in an enclosed area like a bathroom so you don't end up with that hair all over the house. A metal greyhound comb is great to follow a good brush out.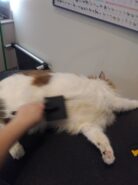 For all cats pay special attention to combing the cheeks and forehead. These are areas cats can't self groom as well and can often result in dense loose hair building up.
Many local groomers focus on dogs, but if you are looking specifically for a cat groomer you can check out Fancy Felines right here in Sarasota.