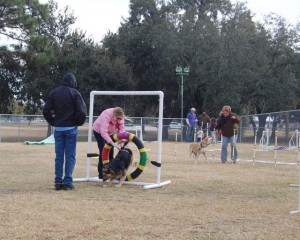 OceanWolf Agility hosted a mini-meeting of the SarasotaDog MeetUp group this morning.  Yes!  It was cold and windy but after a quick demonstration by Coz and the amazing Keiki and by tge award-winning agility dog, Puppy, all of our members were playing, jumping, weaving and learning the equipment too.
Agility is a great way for you to bond with your dog.  Whether you are training for competition . . .or just looking for something fun and interactive to do with your dog –  it's fun and good exercise for everyone.  To read more about agility click here.
Thanks to Hera and COZ and for all who joined us on this windy day.