by: Wendy Ying, DVM
Is your dog really thirsty all the time? Having accidents in the house? You might think its a training issue, but it may be time for a trip to vet to check for Diabetes.
Diabetes in pets is similar to Diabetes in people, Dogs tend to have Type I where the pancreas are damaged and can't produce insulin. Cats tend to have Type II where the body's cells loose the ability to use insulin. Insulin is a hormone that helps glucose get from the blood stream into the cell to be used for energy. The excess glucose in the blood stream is excreted by the kidneys and leaves the body in the urine with excessive amounts of water. That is why your pet will drink lots of water but is still always thirsty.
In Chinese medicine we call this Xiao Ke, chronic wasting and thirsting disease. Our modern lifestyle of overeating and limited exercise leads to obesity which is a major risk factor in developing the disease. Other risk factors are previous episodes of pancreatitis and auto immune disease. In cats, a high carbohydrate diet and lack of exercise are the culprits. Cats are obligate carnivores and are not meant to eat carbohydrate laden foods like corn, wheat and soy.
At first you might notice some accidents in the house or having to constantly fill the water bowl and they may seem hungry all the time. As the disease progresses they may loose muscle mass and lack energy.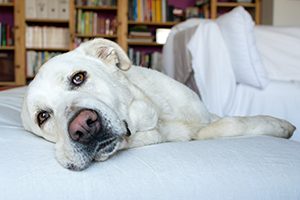 If you suspect your pet has Diabetes, what should you do ?
The first step is a visit to your vet for blood and urine tests to get a diagnosis. Insulin may be needed to get your pet's metabolism under control and just like with people, lifestyle changes are needed for a long and healthy life.
Chinese Food Therapy goals would include quality protein such as lean turkey,beef, salmon or eggs, vegetables that help regulate the blood sugar like sweet potato and leafy greens and avoiding corn, wheat and soy.
You can try giving many small meals followed by mild exercise. This will help to regulate blood sugar levels throughout the day as muscle cells can take glucose out of the blood stream without the use of insulin.
If left untreated, Diabetes can lead to more serious complications such as cataracts, muscle wasting, kidney failure, cushings disease, anorexia, vomiting and hypoglycemic shock.
If diagnosed early, veterinary care and lifestyle changes can allow your pet to live a long healthy life.